6. December 2021
Customer testimonial: "Stalosan F gives me control over the environment that my calves are in."
Calving Manager Nicole Woodford is a strong advocate for Stalosan F. She has used it as the main biosecurity aid in rearing pens for the last 6 years.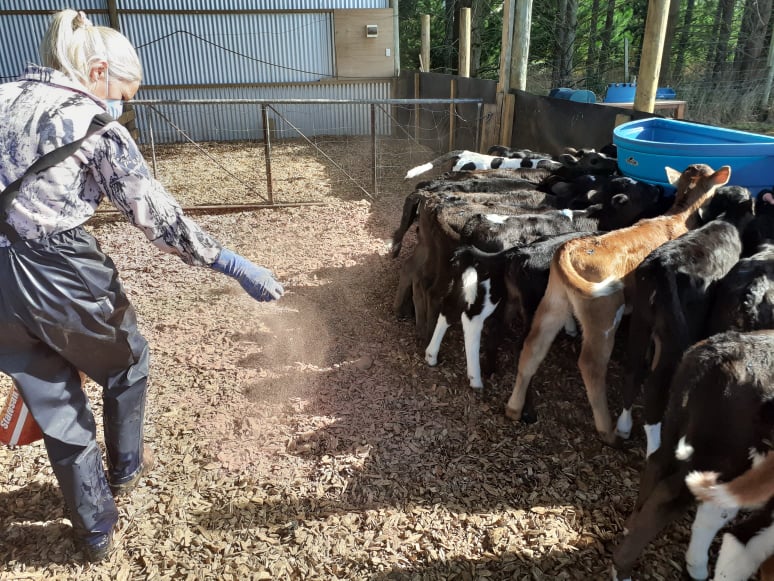 A powerful drying agent, Stalosan F stabilises the microflora and chemical balance in animal bedding. It will absorb up to 400% of its weight in moisture.
Nicole currently works at Ardno Farms Limited in Mossburn, Southland. She rears 500 replacement heifers, 100 Herefords to 100kg and 20 Friesian Bulls to 100kg. She also runs the bobby calves and 4-day-old Hereford sales.
In a previous calf rearing job, Nicole started using Stalosan F.
"At the time, we had rotavirus through the farm" she explains. "It made no sense to me to add more liquid (disinfectant) to pens that were already wet. So, I got onto Google and came across Stalosan F. Everything I read about using a drying agent with antibacterial properties made perfect sense. We ordered it in, and I have never had disease in my sheds in the six years that I've been using this product."
Nicole is passionate about growing happy, healthy animals and is detailed in her biosecurity programme.
With the help of one full-time worker and a few casuals through the rearing season, she runs three calf sheds. One is an old, converted wool shed with a drive down the middle and pens on either side. Then there's an old, converted implement shed and a newer 8-bay shed.
"The wool shed is not easy to work and keep disease under control. There's lots to combat, like pigeons" says Nicole. "We also have two to three rounds of calves come through in a season, so the sheds don't get a rest."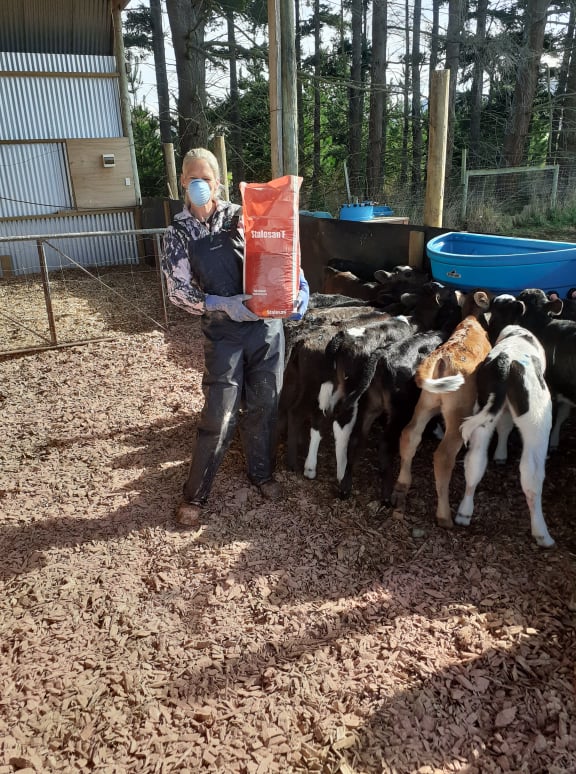 The pens are cleaned and disinfected before the first round of calves, then lined with hydrated lime and a layer of Stalosan F before the wood chip bedding goes down. They dust once weekly with Stalosan F. Between calf rounds, the pens are dusted with Stalosan F and re-chipped.
"If new chip is damp from being outside, we will 'Stalosan it' too" she adds.
Nicole's mantra is that it is better to prevent an outbreak than deal with it.
"Stalosan F gives me control over the environment that my calves are in. I have dry pens, happy calves and a nice smell."
In the past, Nicole found nutritional scours would often turn infectious. Not anymore, she says. "We simply shovel the scours out and sprinkle Stalosan F over any areas where there's evidence of scours, especially the corners (of the calf pens). As a result, we simply don't get infectious scours.
"This season we had rotavirus outside too, but the calf sheds were fine.
"Stalosan F is not overly expensive for what it does" she concludes. "If you get an outbreak, you're looking at $70-80 in vet bills per calf. Stalosan F is our insurance and, at about $1 per calf, is highly cost-effective.
"I constantly recommend Stalosan F as a rearing essential. A good dusting will keep the pens dry and bacteria under control."