Responsibility
Responsibility
Our People:
At Vilofoss, we believe that responsibility begins with our team. Comprising salespeople, advisers, agronomists, veterinarians, and biochemists, our dedicated professionals serve as your trusted advisors. They integrate responsibility into every aspect of our customer relationships, offering expertise to support sustainable and ethical choices. This ensures benefits and growth for our partners while upholding our unwavering commitment to responsible practices.
Our Responsibility:
Our commitment to responsibility extends far beyond our products and services. It is deeply rooted in our core values of trustworthiness, ambition, and value creation—guiding principles illuminating our path forward. They ensure that every decision and action aligns with our responsibility to society, the environment, and future generations.
Societal Impact:
We acknowledge that our influence extends beyond our business operations, and we are firmly dedicated to our societal role. This commitment encompasses ongoing efforts to reduce our environmental footprint, promote diversity and inclusion, and uphold the highest ethical standards. We are actively committed to playing a significant role in addressing societal challenges and helping shape a more sustainable and inclusive future for society at large.
Sustainability Commitment:
Sustainability is ingrained in every facet of our operations. We are deeply devoted to reducing our carbon footprint while providing sustainable solutions to our customers. In collaboration with the DLG Group, we have set clear sustainability goals to guide our efforts.
Working towards a sustainable future – creating the right tools, products, and concepts
Working sustainably is important for our customers, the world around us and future generations – but also for our business growth. We have cooperated with farmers and their animal productions for more than 90 years. In order to continue to be our customers' preferred business partner, we aim to create tools, products and concepts that will help them in their goals towards sustainability.
Alongside creating sustainable solutions for our customers, we are working towards reducing our own CO2-emissions. Together with the DLG Group we have made concrete goals for sustainability that we are working towards in a plan for sustainability.
Read the sustainability plan for the whole of the DLG Group below.
Whistleblowing Service:
Transparency and high ethical standards are paramount to us. Our Whistleblowing Service complements our dedication to open dialogue and transparency within the DLG Group. This service, designed as an early warning system, facilitates risk mitigation while upholding impeccable ethical standards to instill confidence among customers and the public. It offers individuals the option of anonymous reporting for sensitive matters.
Vilofoss, in alignment with the DLG Group, acknowledges varying national legislations concerning whistleblowing and provides comprehensive guidance for those wishing to make reports. This service is specifically designed to address serious concerns, including suspected criminal activities or violations of Codes of Conduct within the group. We prioritize well-founded and good-faith reporting. For more details and access to the Whistleblowing service, please visit: https://report.whistleb.com/en/dlggroup
For a comprehensive insight into our corporate responsibility initiatives, strategic goals, and our commitment to the future, we invite you to read the full document here: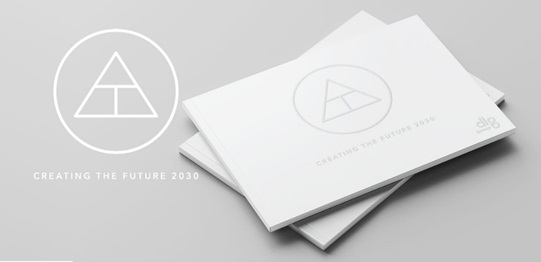 Discover how our core values, sustainability efforts, and strategies align to shape our path forward. Together, we aim to reduce our environmental footprint, contribute to society, and promote responsible business practices for a better future.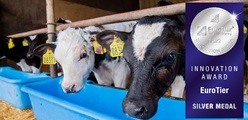 September 22. 2022
Innovation Award EuroTier 2022: Vilofoss wins a silver award
September 17. 2021
NutriSpar - makes less more. The new feeding concept for nutrient reduced feeding.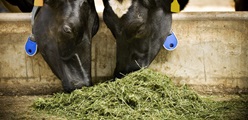 July 12. 2021
Protispar - alternative and effective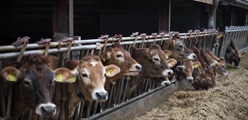 July 1. 2021
Dairy Global: Feed additive cuts cows' emissions by half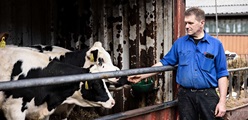 June 10. 2021
ProtiSpar reduces protein requirements: Why shouldn't we keep going?
June 4. 2021
DLG partner in a new ground-breaking project: 'No-Methane'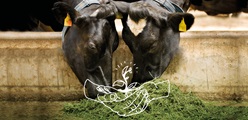 June 3. 2021
The challenge of high protein prices for cattle feed – and how to reduce the feed costs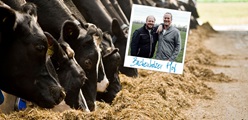 April 26. 2021
Dairy farmer Metzger-Petersen of the Backensholz farm on his experiences with ProtiSpar ÖVO
November 13. 2019
Research project: seaweed set to reduce greenhouse gas from burping dairy cows
September 13. 2019
Seaweed in cattle feed to reduce greenhouse gas from burping dairy cows