Print page
Dialyt 2021 15 Kg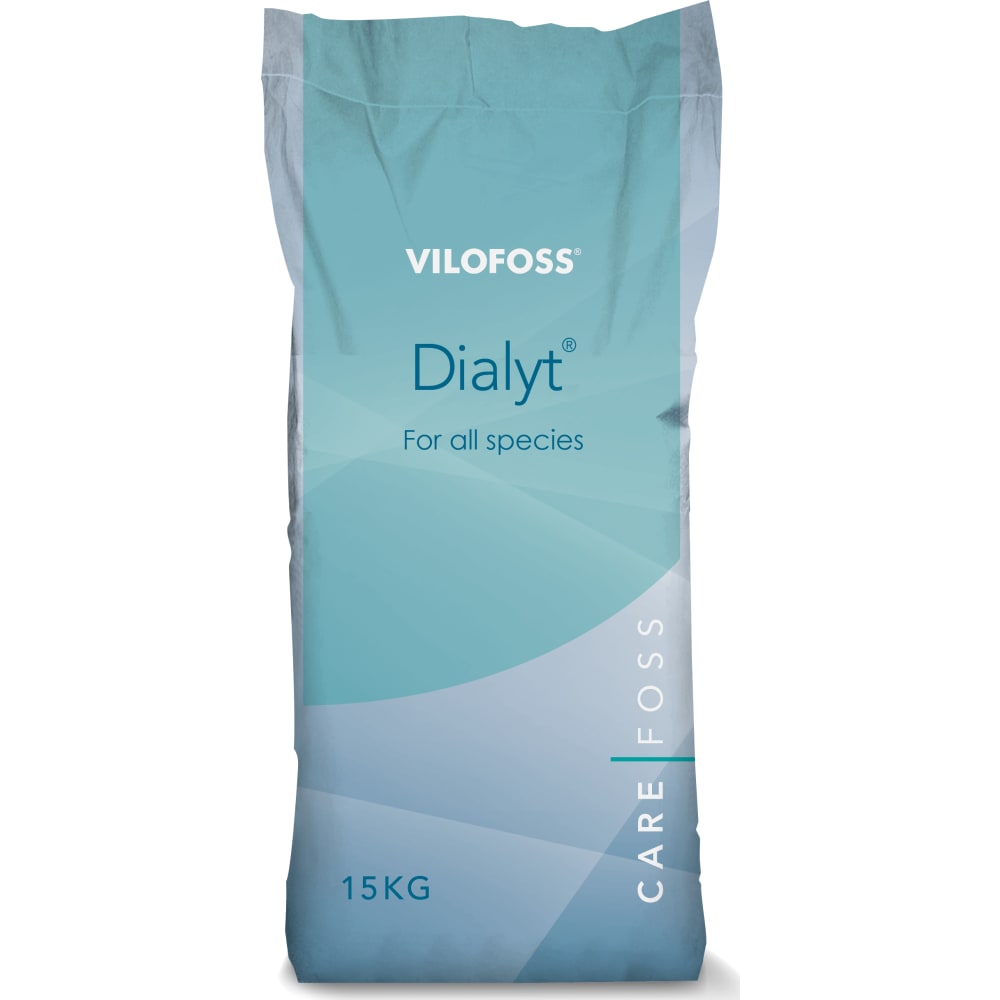 About the product
About the product
Content
Dosage
Product tags
990 kg = 1 Pallet
15 kg = 1 sack
Product Number: 255150
Dialyt - Dietary feed intended for stabilizing the fluid- and electrolyte balance in order to support the animals' physiological digestion.
The product contains the electrolytes sodium, chlorine and potassium, which are the main electrolytes for balancing fluid and correcting the animals' metabolic acidosis.
Dialyt can be used for calves, piglets, lambs, kids and foals. Should not be fed until at least 1/2 hour after milk administration.
Dialyt is a tasty white powder, which is intended for stirring in water (preferably 40-50°C), as hot water facilitates stirring.
Read more
Analytical constituents:
32,2 % Ashes
0,0 % Calcium
7,9 % Sodium
Composition:
62,5 % Sugar
32,5 % Minerals
Additives (guarantee per kg):
Sensory: 49250,00 mg Glycine (2b17034);
CONCENTRATE FOR LIVESTOCK.
Produced 720 days before expiry date.
GMP+ FSA assured.
Dialyt for calves
Use:
1 serving consists of 60 g Dialyt stirred in
2 litres of water (40-50°). Milk and Dialyt
must be given separately. Allow for at least
30 minutes between administration of milk
and Dialyt.
If there is a risk of digestive issues, for
instance when moving calves and/or
changing feed
Supplement with ½ serving of Dialyt at
each feed.
In periods with digestive issues
(diarrhoea)
Administration period 1-7 days.
Supplement with 1 serving of Dialyt at
each feed.
Dialyt for piglets
Use:
30 g Dialyt per litre of water (40-50°).
If there is a risk of digestive issues
(diarrhoea):
Give Dialyt mix according to drinking
need.
Dialyt can beneficially be administered 1-3
days before starting administration of sow
milk replacer.
Dialyt for lambs
Use:
1 serving consists of 6 g Dialyt stirred in
0.2 litres of water (30-35˚).
If there is a risk of digestive issues
(diarrhoea)
Let them continue to suckle and give 1
serving of Dialyt/day for 2-3 days.
This mixture must only be used in a
maximum ratio of 200 g per kg of the daily
feed portion