Print page
Dialyt Bio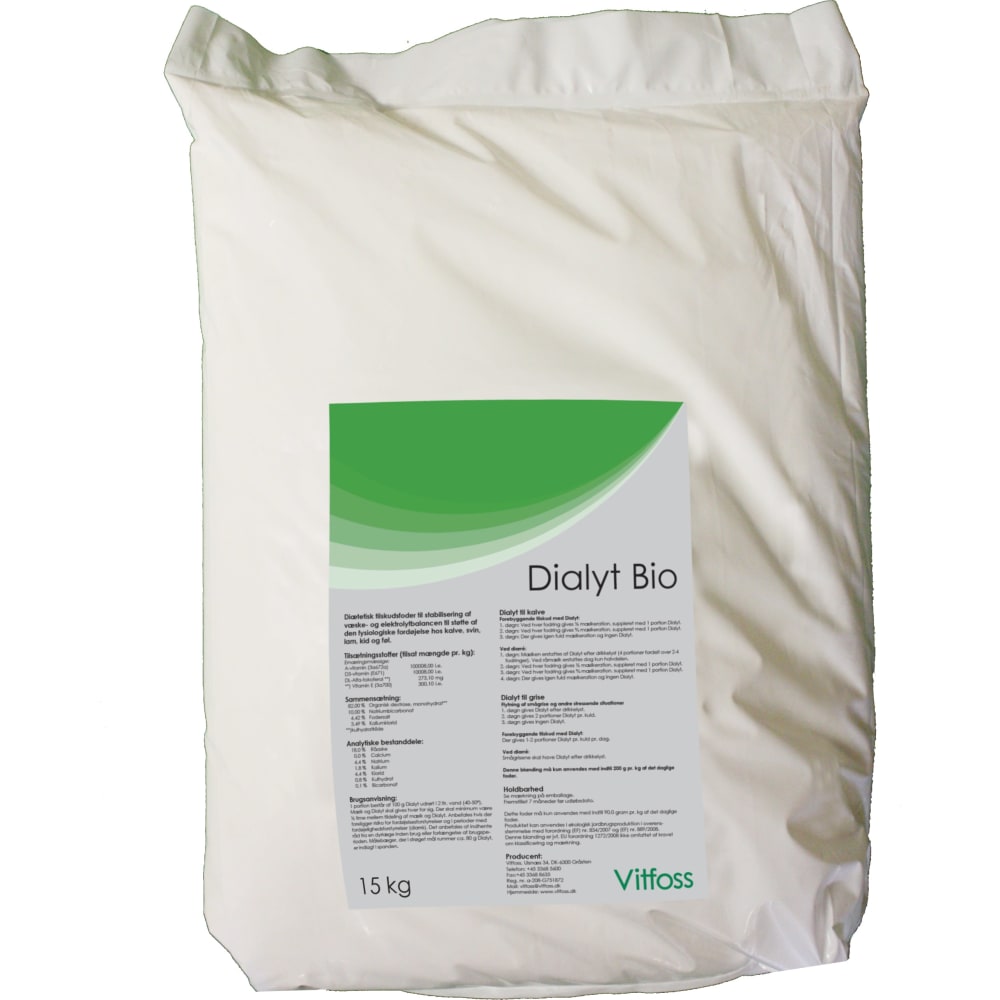 About the product
About the product
Content
Dosage
Product tags
1 unit = 15 kg
50 units = 1 Pallet
Product Number: 254384
Dialyt Bio is a dietetic feed supplement for stabilising the fluid and electrolyte balance, supporting the physiological digestion in calves, pigs, lambs, lambkins and foals. Dialyt Bio contains the electrolytes sodium, chlorine, potassium and bicarbonate, mixed with glucose. Electrolytes have an influence on the fluid balance in animals with gastrointestinal problems, and glucose is easily absorbable energy.
Dialyt Bio also has added vitamins. This provides the animals with a valuable additional supplement of all important vitamins. Approved for organic farms.
Read more
Additives (added volume per kg):
Nutritional:
Vitamin A (3a672a) 100008.00 i.u.
Vitamin D3 (3a671) 10008.00 i.u.
DL-Alpha-tocopherol (3a700) **) 273.10 mg
**) Vitamin E/DL-alpha-tocopheryl acetate (3a700) 300.10 i.u.
Composition:
82.00 % Organic dextrose, monohydrate**
10.00 % Sodium bicarbonate
4.42 % Feed salt
3.49 % Potassium chloride
**) carbohydrate source
Analytical components:
17.9 % Crude ash
0.0 % Calcium
4.4 % Sodium
1.8 % Potassium
4.4 % Chloride
0.8 % Carbohydrate
0.1 % Bicarbonate
Instructions:
One ration consists of 100 g Dialyt stirred in 2 litres of water (40-50°). Milk and Dialyt must be given separately. Allow for at least 30 minutes between administration of milk and Dialyt. Recommended if there is a risk of digestive disorders and in periods with digestibility issues (diarrhoea). It is recommended to seek the advice of a vet before use or before extending the administration period. The bucket contains a measuring cup that holds approx. 80 g Dialyt at level measure.

This feed may only be given in a quantity of up to 90.0 g per kg of the daily feed ration.
The product may be used in organic agricultural production in accordance with Regulations (EC) no. 834/2007 and (EC) no. 889/2008
Subject to EU Regulation 1272/2008, this compound is not covered by the classification and labelling requirement.