Print page
Vitlick AntiFly 15 kg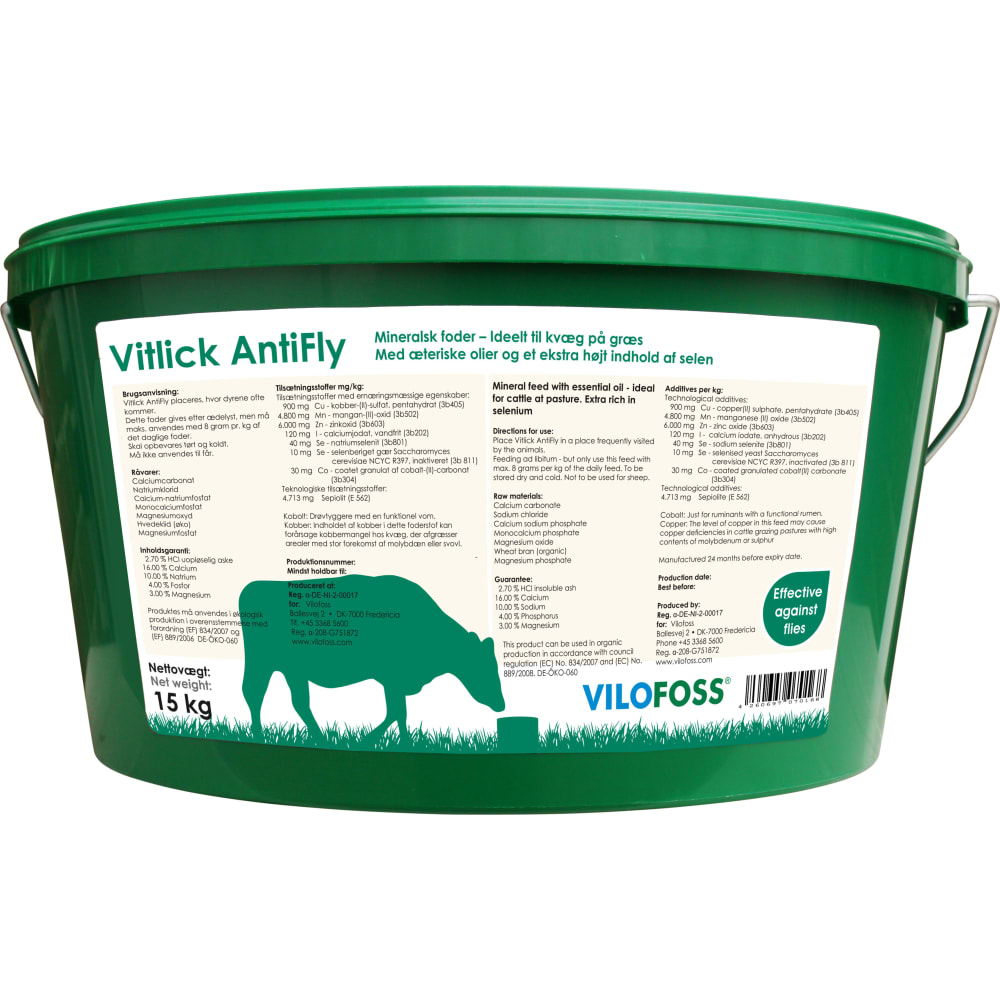 About the product
About the product
Content
Dosage
Product tags
1 unit = 15 kg
40 units = 1 Pallet
Product Number: 255153
Mineral feed - ideal for cattle on pasture
With essential oils and an extra rich in selenium
Tasty lick with a special combination of essential oils (citronella grass, cloves), which contributes to keeping the flies away.
The essential oils change the specific odour of the cows. The animals therefore become less irritated by flying insects and are more calm.
The product contains all necessary micro- and macro minerals and may also be used for lactating cows.
Vitlick Anti-Fly is weather resistant to rain and can therefore be used both indoors and outdoors.
Can be used for organic farming.
Production in accordance with council regulation (EC) No. 834/2007 and (EC) No. 889/2008. DE-ÖKO-060
Read more
Raw materials:
Calcium carbonate
Sodium chloride
Calcium sodium phosphate
Monocalcium phosphate
Magnesium oxide
Wheat bran (organic)
Magnesium phosphate
Guarantee:
2.70 % HCl insoluble ash
16.00 % Calcium
10.00 % Sodium
4.00 % Phosphorus
3.00 % Magnesium
Additives per kg:
Technological additives:
900 mg Cu – copper (II) sulphate, pentahydrate (3b405)
4.800 mg Mn - manganese (II) oxide (3b502)
6.000 mg Zn - zinc oxide (3b603)
120 mg I - calcium iodate, anhydrous (3b202)
40 mg Se - sodium selenite (3b801)
10 mg Se - selenised yeast Saccharomyces
cerevisiae NCYC R397, inactivated (3b 811)
30 mg Co - coated granulated cobalt (II) carbonate
(3b304)
Technological additives:
4.713 mg Sepiolite (E 562)
Cobalt: Just for ruminants with a functional rumen.
Copper: The level of copper in this feed may cause copper deficiencies in cattle grazing pastures with high contents of molybdenum or sulphur.
Directions for use:
Place Vitlick AntiFly in a place frequently visited by the animals. Feeding ad libitum - but only use this feed with max. 8 grams per kg of the daily feed. To be stored dry and cold. Not to be used for sheep.