Products / E-Force
2. May 2023
E-Force – boosting calf immunity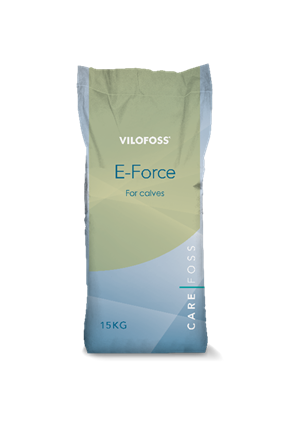 E-Force is a feed supplement for calves to be used in the stressful period around weaning when the calves are experiencing big changes in the feeding. The feed contains natural vitamin E, which is more bioactive and has a higher absorption rate. To protect this fragile vitamin E form, the product is embedded with a special fat coating. Trials demonstrated that calves supplemented with E-Force had a significantly higher plasma vitamin E level and that stress indicators in the animal decreased.
Developed in cooperation with the University of Aarhus, veterinarians and advisers
The product is the outcome on a project supported by the GUDP program coordinated by The Danish FishAgri Agency, Ministry of Food, Agriculture and Fisheries. The background for the project is the frequency of diarrhea which is often high around weaning.
The product has been developed together with the University of Aarhus, LVK vet group, and SlagtekalveRådgivning Aps.

E-Force – acknowledged at Eurotier
E-Force was awarded a silver medal at Eurotier 2022 in the Innovation competition.
Words of the jury:
"The CareFoss E-Force product represents a simple, practical concept for calf starter concentrates, optimising the advantageous effects of supplementing natural vitamin E. The lecithin protection keeps the vitamin E stable for a longer period of time, as a result of which the product's shelf life is increased. What is especially innovative is the approach of synergistically combining nutrients and therefore enhancing the effectiveness of the feeds in the sense of feeding the animals and keeping them healthy."

E-Force – announced at Agromek 2022
E-Force, a vitamin E product for calves, has been announced as two-star news at Agromek 2022 in Denmark.
Agromek's news committee points out in its assessment that it is the first time that it has succeeded in producing a pill with natural vitamin E in alcohol form. Natural vitamin E in alcohol form has been shown in trials to have the highest biological availability.
E-Force has a higher bio-availability
Vitamin E supplementation to calf diets improve the immune response and growth performance. Calves with a low level of plasma E are, therefore, more susceptible to infections. Around weaning, the uptake of vitamin E all-rac-tocopherol acetate (the common form of vitamin E) is overall low – probably due to low carboxyl esterase, which helps conversion of the acetate form to the absorbable alcohol form. Further, the natural stereoisomer (RRR-α-tocopherol) has in numerous experiments been shown to have the highest biological activity. Nevertheless, most commercial calf starts contain the acetate form.
Commercial form vitamin E vs. E-Force
However, feeding the alcohol form of the vitamin E is a challenge as it might be more vulnerable to oxidation, damaging, etc., if the concentrate feeds are produced with high temperatures during pelleting. Vitamin E needs protection in the feeds from a fat source of which the lecithin is most potent.
| | |
| --- | --- |
| Commercial form vitamin-E | Natural form vitamin-E |
E-Force uses a different protection technology of vitamin E
Commercial vitamin E is protected against oxidation with an acetate.


Acetate needs to be separated before

absorption

is possible.

Calves have low capacity for separation of acetate.

Natural form vitamin-E

Commercial form vitamin-E

E-Force uses a vitamin E where the acetate already is separated - superior bioavailability.

An E-Force fat matrix technology prevents oxidation.
E-Force includes functional fibre instead of insoluble fibre
The carrier used in E-Force is functional fibre, which is non-fermentable and hydrothermally treated. These special fibers increase enzyme activity in the digestible tract and modify the intestinal microbiota – improving the intestinal health.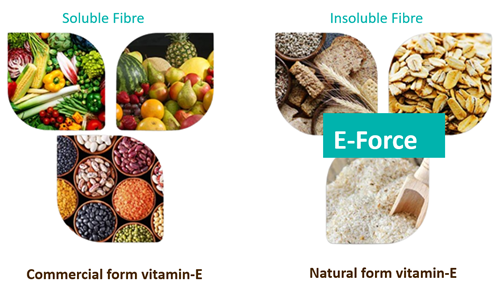 Trial results show increased plasma vitamin E levels
E-Force was tested in a trial in Denmark. The trial was carried out on three different herds, where each herd had a control and a treatment group (E-Force).
Number of control calves: 213, E-Force: 211.
The concentration of vitamin E in plasma was above the minimum level to ensure high immune function (3 mg/L) for both groups before weaning. At weaning, it was clear that the E-Force treatment gave a much higher level of plasma vitamin E compared to control. The plasma vitamin level were higher after weaning for the E-Force treatment (4 mg/l) compared to control (1.6 mg/l). Higher level of vitamin E after weaning, demonstrate a high efficiency and availability of the product and demonstrate that the calf on E-Force treatment have extra reserve of vitamin E to combat challenges of the immune system.

The combination of the natural form of vitamin E and fat matrix did improve the vitamin E level and decreased physiological indicators for stress around weaning. Thus, based on the positive response of a high plasma vitamin E concentration (> 3.0 mg/L) on the immune system function, supplementation of a high level of vitamin E in a calf starter concentrate can be a practical and easy approach to obtain the beneficial effect of vitamin E during the critical time around and after weaning.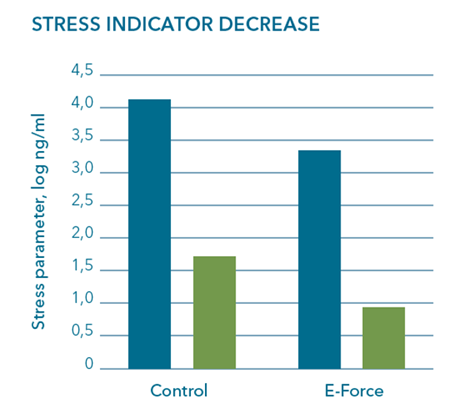 Boosting Profit with Higher Vitamin E Levels in Calves at Weaning
The higher vitamin E levels around weaning did also have a long-term effect on the animals which were observed on preliminary data from the slaughterhouse. This indicates that the calves responded with a higher level carcass weight and a higher EUROP form classification. Overall, this nutritional strategy resulted in an impressive gain of approximately 40 Euros in profitability per calf, showcasing the substantial financial benefits of elevating vitamin E levels during the weaning phase.
| | | |
| --- | --- | --- |
| | Control | E-Force |
| Age, days | 288 | 291 |
| Live weight, kg | 392 | 403 |
| Growth, g/d | 1292 | 1320 |
| Carcass weight, kg | 195 | 201 |
| EUROP form | 3,4 | 3,6 |
| €/kg carcass | 2,95 | 3,10 |
| Price calf, € | 592,35 | 630,18 |
Average of 3 farms
Most of the results have been reported in the Livestock Production Science: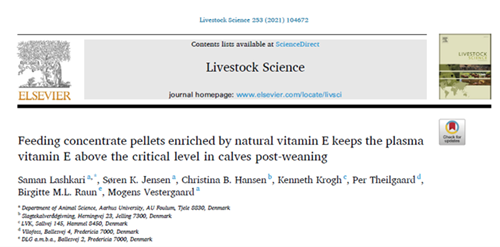 Feeding recommendations
It is recommended to supplement 10 g E-Force per day per animal (=30 ml = 0,3 dl) in stressful periods.
E.g. at weaning: 10 g per day per animal from 3 weeks before weaning to at least 2 weeks after weaning.

E.g. when

animals

are moved or put together: 10 g per day per animal in the week before being moved until at least the week after.

E.g. when the herd is hit by disorder: 10 g per day per animal for one to two weeks