10. March 2020
150 calvings – and no milk fever
For the first time ever, not a single case of milk fever in the 150 calvings since late summer of 2019 has been recorded at Finnelstrupgaard, located in northern Jutland, Denmark. And this is not the only positive outcome of being involved in a dry cow feeding project.
Text and photo: Tenna Bang, Landbrug Nord

DRY COWS Skimming the calving record book, it's difficult not to feel excited about the list of recent calvings at Finnelstrupgaard, near Aalborg in Denmark: 43 calvings in a row and not one stillborn calf.
"Never before have I had a zero incidence of stillbirths," says dairy farmer Niels Kragkær, establishing that the list includes 26 calvings and that he has now reached 43 live-born calves in a row.
Taking part in dry cow project
But, it doesn't end here: Since late summer 2019, not a single cow has been diagnosed with milk fever – in 150 calvings.
"Previously, about 1 in 15 cows were affected with milk fever," says Niels Kragkær.
Today, things have changed for the better at Finnelstrupgaard. The local DLG office contacted the dairy farm, asking if they would like to take part in a dry cow feeding project.
"We have signed up as project partners before. I like trying new things, and this project seemed really interesting," says Niels Kragkær.
Documenting the effect.
Ann Zaar Christensen, a Product Consultant at the local DLG office, specialises in dry cow feeding.
"We wanted to perform an on-farm trial to document the effect of our feed, Easy-X Plus. With this project, we aim to substantiate our customers' feedback; in other words, show that the Danish farmers consider it an effective product," says Ann Zaar Christensen.
Consequently, they are in the process of collecting the final blood test results, which are set to document an increase of the blood calcium level when feeding two kilos of Easy-X Plus per cow per day over the last two weeks before expected time of calving.
Waiting for blood test results
Niels Kragkær is awaiting the results of the blood samples. Just like the remaining participating farmers in the trial, blood samples were also taken from five of his first-time heifers before feeding them Easy-X Plus – as well as five after. This way, a comparison can be made between the effect before and after feeding Easy-X Plus.
But, today, Ann Zaar Christensen and cattle advisor Jørgen Aagreen, Agri Nord are very anxious to know the results. Niels Kragkær, on the other hand, has already noticed the huge benefit achieved from combining a more optimum feed mix and Easy-X Plus.
Grouping the dry cows
The dry cows at Finnelstrupgaard have always been split into two groups: the far-off dry cows and the close-up cows (deep litter). Up until the late summer of 2019, the two groups were fed the same feed, which they are still fed. But, today, the feed has a slightly reduced feed energy level. Moreover, the close-up cows are given more concentrated feed in the form of Easy-X Plus.
Oleksandr Artomov has been employed at the farm for the past 11 years, and the dry cows are his responsibility.
Around two weeks before calving, he makes sure to isolate the cows, which is not an easy task because none of the cows are getting inseminated. Finnelstrupgaard has three bulls, so determining a fixed calving date presents a challenge.
Oleksandr Artomov feeds each cow two kilos of Easy-X Plus every day.
"It's very straightforward. My feed shovel holds one kilo, so I use it twice per cow," he says, with the group of cows waiting behind him in the self-locking yoke.
"The cows willingly eat the feed," says Oleksandr Artomov.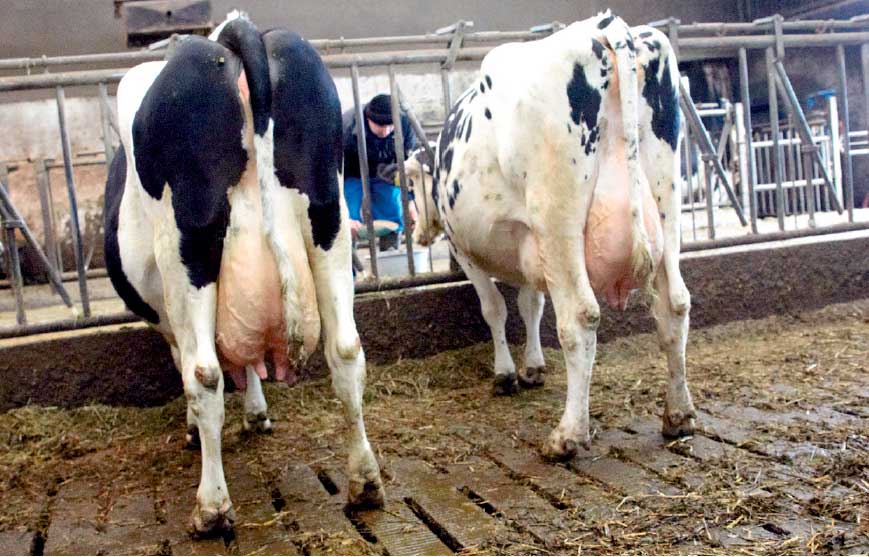 Improved health and welfare
The test results speak for themselves. Over the past six months, Niels Kragkær has not had a single cow affected with milk fever and, since then, not one has been given an energy boost. Furthermore, today, approximately one in ten first-time heifers suffers from a retained placenta, compared to previously when it was about half of the cows.
"Having markedly fewer is such a relief," says Niels Kragkær, adding that the dry cows have never looked healthier prior to calving, and they calve easily.
"They also get off to a good start after calving, producing milk at a high level and, undoubtedly, this will result in an extra 200-300 litres per cow every year," says Niels Kragkær.
Calves thriving
Things have also changed in the calf shed. "Now, the calves are the same size. Previously, the calves used to be of varying sizes, but not anymore. They appear healthier, they are bigger and begin suckling at an earlier stage. They are stronger and caring for them has become easier," says Majbritt Nielsen, who is responsible for the calves at Finnelstrupgaard.
Cattle advisor Jørgen Aagreen looks forward to hearing about the blood test results and is pleased about the positive trends at Finnelstrupgaard.
"Several factors have led to the improvement at our farm, which would probably not apply to other farms," says the cattle advisor.
Never again
Looking back, Niels Kragkær admits that several aspects of the dry cow feed should have been optimised – which they have been now.
"I will never again use our usual feeding strategy. We have really learnt a lot from the project and it has been a smooth process. Jørgen prepared a feeding plan and DLG gave precise instructions on how to use their product. Application is easy and we have not had to make any substantial changes to our existing working routines. We have become much more effective, and the financial gain obtained makes the efforts even more worthwhile," says Niels Kragkær.
Oleksandr Artomov and Majbritt Nielsen agree, saying that the changes made to their working routines have resulted in a substantial increase in job satisfaction.