27. February 2021
Regular routines and prevention in the calf huts
Regular routines, together with a liquid electrolyte product, have helped dairy producer Peter Niss to always be one step ahead in the calf huts at Stenvadgaard by the town of Nibe in North Jutland, Denmark
The milk taxi is washed and ready for the next feeding at Stenvadgaard owned by Peter Niss in Skivum by the town of Nibe, Denmark.
On the handle a number of velcro straps are hanging - yellow and red. And no one, neither Peter Niss nor the six employees, are in doubt as to why they are hanging there.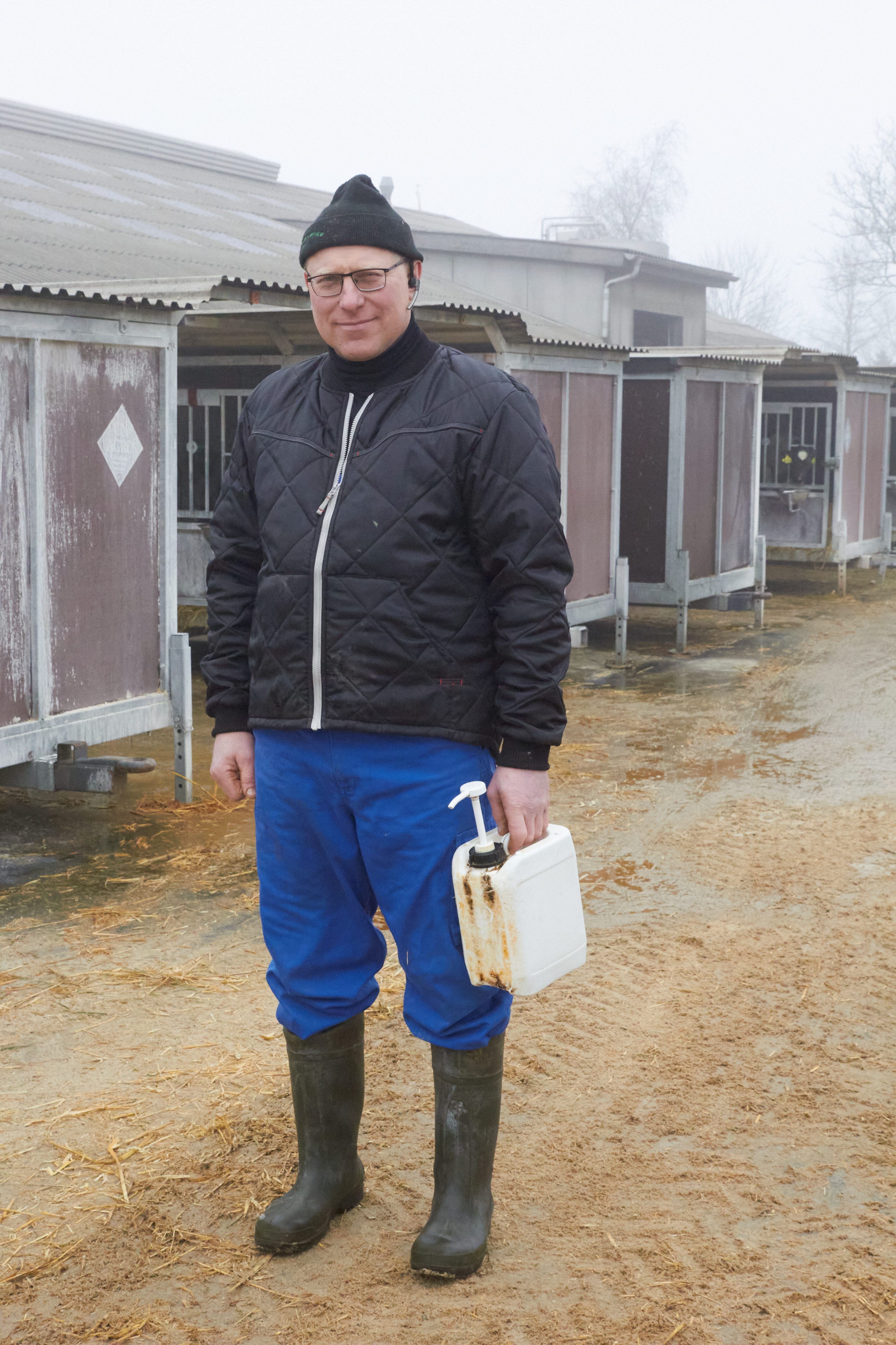 "The red ones we hang on the calf hut if a calf has been treated, and the yellow ones are used if we need to pay special attention to a calf. When you have observed something, for example a calf that does not want to drink, you put a yellow ribbon on the hut and write it down on the small board over there," Peter Niss says and points.
"If we twice in a row observe a calf that does not drink, we start to treat, and then the band changes to red."
Such systematics and documentation did not exist, as Peter Niss was the only caretaker on the farm having just a bit of help from his wife to manage the then 110 cows. Today, however, with six employees and 360 dairy cows, systematics has become a necessity, which Peter Niss is very pleased with.
"You do not have to remember those things, because now it is documented. Further, an employee showing up for work does not have to either ask or guess what has happened over the weekend; it is known. It results in fewer errors and much more peace of mind, explains the dairy producer, who took over the property almost three years ago."

Colostrum as from the start
The calves are born in the calving unit. Here, the dry cows spend the last weeks prior to calving in a joint deep litter group, and shortly before calving they are moved to a clean individual box with straw.

"The calf is administered colostrum from a colostrum bank immediately, even if it is 11 pm," says Peter Niss and opens the refrigerator, where the colostrum is ready.

The first time the cow is milked, the milk is sorted out, tested for antibodies and frozen. The best colostrum is given to the heifer calves.

Each calf is administered four litres of colostrum and then "powdered milk" until they are three months old. They are fed with four litres twice a day and for the last 14 days of the milk feeding period, the application of colostrum is gradually reduced.

Liquid product
Together with the colostrum, the new-born calves are given selenium and two pump strokes of a five-litre can.

"It is Dialyt Express," says Peter Niss. An electrolyte product from Vilofoss, which he has given the calves for the last two years.

"It started because we were contacted by DLG who asked if we would like to test the product," says Peter Niss, who had such good experiences with it that he has used it ever since.

The calves are administered Dialyt Express for three weeks.

Easy application
For the dairy farmer, the application is about two things. Firstly, he finds that it works, and secondly, it is easy.
"In the past we have used several different kinds of electrolyte mixtures, but they always had to be stirred into milk or water. But it was bothersome, time consuming and difficult to stir, i.e. much of the powder was left on the edge of the bowl when the calf had finished drinking. These circumstances, together with the fact that to my opinion there was no real effect, makes this much easier for me," Peter Niss says and lifts a white can with the product and puts it on the milk taxi.
Peter Niss has Dialyt Express delivered in a large container and pours it into a smaller container, which easily stands on the milk taxi back and forth between the milk kitchen and the calf huts. The product is given in the same workflow as milk is given anyway. The milk taxi provides milk to a number of calves, after which two pump strokes of the product are administered into each bowl.
"The calves drink it together with the milk, and should a single calf drink so fast that the bowl is empty, when we give Dialyt Express, it is my experience that the calf licks it up anyway," says Peter Niss, who always gives his calves fresh water after the milk feeding.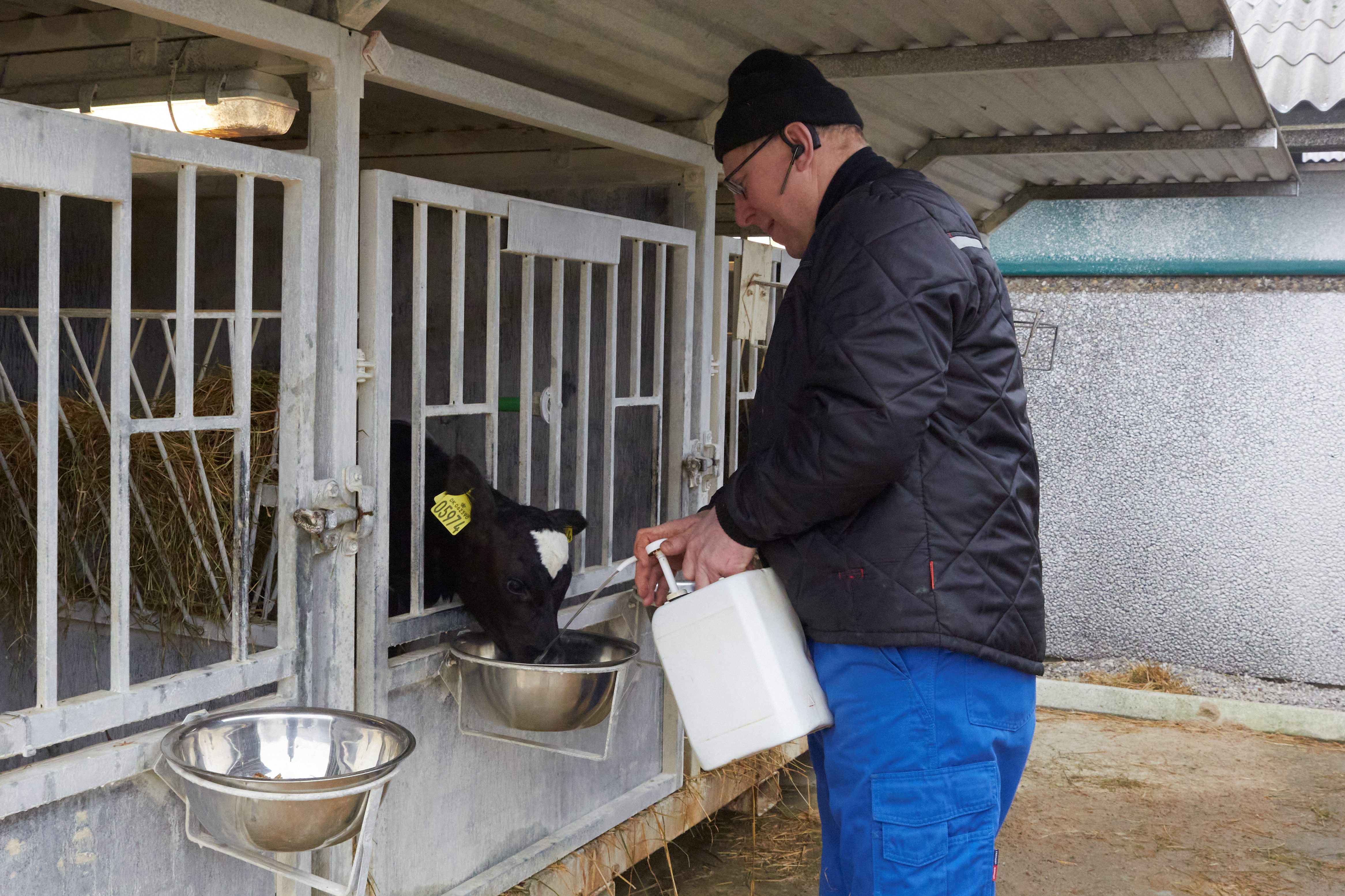 Improved health
Peter Niss has no statistics on before and after, as he has used the product for two years and did not come to the farm until almost three years ago, where he combined the two livestock populations.
"But there is an effect, even when I compare with my time as a dairy farmer on the other farm. We still have calves suffering from diarrhoea, but the number is reduced compared to previously. We also treat fewer calves and do not see calves who are completely stagnant anymore. The last one to die of diarrhoea was in March. I cannot say how many incidents there were before, but it was more than one in less than a year," Peter Niss explains.
Unlike before, where Peter Niss used an electrolyte mixture exclusively for calves falling behind, this product is used for every animal as from day one and three weeks onwards.
"It is a prevention that is systematised, and everyone knows how we do it. It is necessary to act that way, as we are five different persons who manage the calves. It is about being consistent, timely care and being ahead," says Peter Niss and looks down at the calves, which are equipped with winter blankets, and some have heat lamps.
"Dialyt Express is both easier and cheaper for me compared to the electrolyte mixtures I bought before, where there were several treatments and dead calves at the same time."
Took over a bankrupt farm
The bankrupt farm that Peter Niss bought is called Stenvadgaard and had three streamlined buildings in the town of Søsten. The latest building is from 2008 - a cow house which can hold 360 cows with a milking centre at one end.
Despite almost perfect buildings with good logistics, it was a miserable property, and there were only 130 out of more than 300 dairy cows left with an output of 8,000 kilos EKM, when Peter arrived.
"It was completely run down," Peter Niss says and takes a deep breath.
"I emptied the stables, got rid of the cows, washed and disinfected it all and left it empty for a month. Then I had the food safety authorities to come and check in order for me to enter into status 1 from the start. And they controlled everything. It was very much my exam, Peter Niss says and points to the ceiling above the milk kitchen."
"They also checked up there and the exterior of the slurry tank - everything was checked."
The following day, Peter Niss was able to move his own 110 cows down to Stenvadgaard, where he further received two new herds. Today, Stenvadgaard delivers approximately 12,500 kilos of milk per cow to a dairy plant with a cell count of approximately 100,000.
Systematics provides overview and calm
It is almost three years ago Peter Niss bought a bankruptcy property at Skivum near the town of Nibe in North Jutland, Denmark and went from 110 cows to 360.
The change made him go from being the only caretaker, which he had been since 2005, to having six employees.
"It was a huge upheaval. I suddenly had to be a manager. Before, all information was inside my head, and I performed the tasks myself. Now I had to get things out of my head and to entrust others with responsibility," Peter Niss explains.
Among other things, this was executed with meticulous systematics.
"We had to systematise everything, have stand-up meetings, introduce LEAN, stable training and work plans. We have spent a lot of time and money on this, but in return I do have a team that works and employees who take care of things on their own initiative. We have had many trainees from the beginning, often three at a time, and it has been essential to me that they know their tasks, know how to perform them, and are fully aware of who to approach if they have a question," Peter Niss explains

Checking in and out
A recent new initiative is a screen on which employees check in and out.
"It's just easy. This way their working hours automatically are transmitted to my computer for approval," says Peter Niss, who also experiences that the staff are pleased with checking in and out.
Now they do not have to remember e.g. which day they were working extra hours and remember to write a note. Now everything is registered automatically.
Originally published in Effektivt Landbrug
teba@effektivtlandbrug.dk
telefon +45 61 55 15 87