20. October 2016
Stalosan F efficacy trail in broiler breeders
By Plamen Bochukov
І. Purpose:
Evaluation of Stalosan F economical efficacy in broiler breeders, concerning morbidity, hatching eggs production, hatchability and litter quality.
Background:
Farm faces bad litter quality during the winter time, due to cold weather, excess moisture in the litter, leading to higher mortality and bad production results.
II. Materials and method:
1. Poultry broiler breeder farm located in Bulgaria, two stages – from day-old chicks to reared pullets and broiler breeders for hatching eggs production.
- Capacity of the farm - 33 000 productive broiler ROSS 308.
- 6 buildings situated in one place.
- Area of each building - 1000 m².
- Management – floor system
- Density - 5.5 birds per m².
- 10% roosters in the flock.
- Nesting boxes - 4.5 birds per nesting box.
- Bedding material – straw.
- Roxell feeding and watering equipment.
- Fankom climate control system.
- Feed produced locally.
2. Stalosan F – dry broad-spectrum disinfectant applied during the entire production cycle in presence of animals.
- Application method – 5 kg capacity tube spreader with a battery powered hand drill.
3. Trial period – 9 ½ months, started on 14.09.2014 and finished on 27.06.2015
- Stalosan F applied regularly to one flock, situated in 3 buildings.
- Trial results compared to the average production results of the farm for the last two years.
- Total Stalosan F consumption – 1200 kg/building = 3600 kg for the whole flock.
III. Trialdesign:
Schedule of Stalosan F application: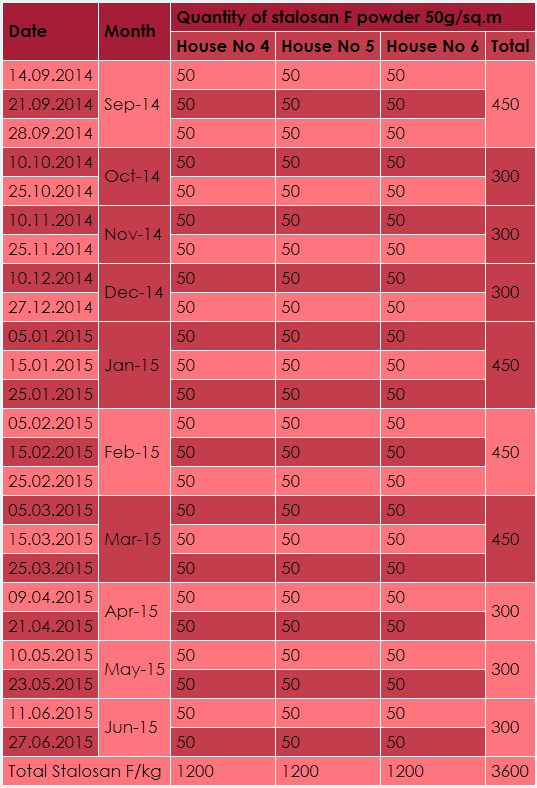 Trial was carried out in3 buildings x 1000 m² each. Stalosan F applied over the litter in presence of birds with a spreader 3 times per month during the winter period and 2 times monthly for the spring/summer season at dosage 50 gram/m².
IV. Procedure and registration of the results:
Sick or debilitated animals are eliminated.
Standard vaccination and prophylactic program was applied, according to the farm practice.
All supplies of feed, water, heating, ventilation and litter quality were equal for all animals.
Records:
Notes for the flock age, hybrid and number of birds per building, sex (%), starting and finishing time.
Starting date.
Weekly mortality (with the cause of the death) and total at the end of the cycle.
Weekly laying rate.
Hatchability of the eggs.
Laying period and number of eggs.
Weekly new litter added.
Record of the medications – especially antibiotic treatments - reason, duration.
Evaluation of the litter quality – once per week(dry, wet, ammonia smell)
V. Trial results.
1. LITTER MANAGEMENT
Usually farm experienced difficulties in managing good litter condition, especially during the first weeks after the birds transfer from the rearing farm and during the winter months because of high humidity and low temperatures. Workers spend extra time for litter maintenance (treatment with motor cultivator) and placing extra fresh bedding. For Stalosan F treated flock reduction of 50.07% in consumption of bedding material reported, along with improved animal hygiene and environmental conditions in the building.
Number of straw bales used.

Further no racking of the bedding was necessary, saving extra time on litter maintenance and reducing the stress for the birds. Fresh litter was added only to the nests for egg laying. Results prove the powerful drying effect of Stalosan F.
2. LIVEABILITY AND MORTALITY
As an average all previous flocks had 34 productive weeks. Stalosan F treated flock showed good productivity for 38 weeks.
Improved productivity of Stalosan F flock is due to periodic sanitation of the habitat. Reduced pathogen challenge extends production period and improves performance. The only reason for early culling of the Stalosan F treated flock was the planned installation of automatic nests.

Laying period.
Stalosan F improved mortality with 48% for the hens and 10% for the rosters.
Female and male mortality during production cycle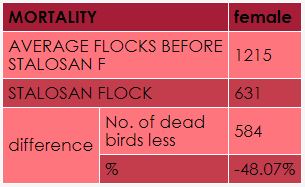 Less infections during the Stalosan F application were also reported like cloacitis, salpingitis, oophoritis and peritonitis in hens. In most cases those are retrograde infections from the environment.
3. EGG PRODUCTION
Stalosan F treated flock showed stable egg production exceeding the standard. Egg laying rate was 2.01% higher, compare to the average results from the previous flocks, resulting in 12.5 more eggs per hen housed.
Average egg production and total numberof eggs per hen housed.

Eggs for hatching difference was 9, 1 in favour of Stalosan F flock.
4. HATCHABILITY
Improved environment hygiene and health status of the Stalosan F flock resulted in 11.07% higher hatchability of the eggs.
Hatchability

Number of chicks per hen housed

Weekly hatchability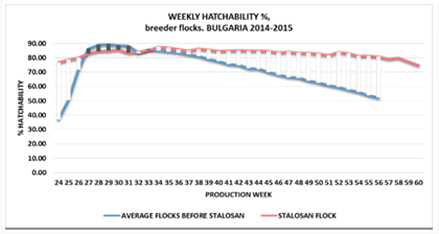 Stalosan F treated flock showed very stable levels of hatchability from the beginning of the productive period.
5. MEDICATION COST
As an average for the previous flocks birds were treated 7 times with antibiotic due to increased mortality.
Stalosan flock were treated twice– once before the peak of the egg production and after 50th week as part of the standard prophylactic program.
The Stalosan F flock showed 79.31 % reduction in antibiotic treatments due to the productive cycle.

6. SPIKING PROGRAM

Spiking program is an replacement of the males with young ones(or in same ages) in older flock in order to compensate decline in fertility.In Stalosan F treated flock is observed reduction of digital dermatitis, which are one of major cause of lameness and the associated reduced sexual activity of roosters. All avoidable risks of Spiking program, together with the improved condition of the habitat and the drastic reduction of pathogenic strain are the main reasons for the extended life and wellbeing of roosters.
7. STALOSAN F COST EFFICACY FOR BROILER BREEDERS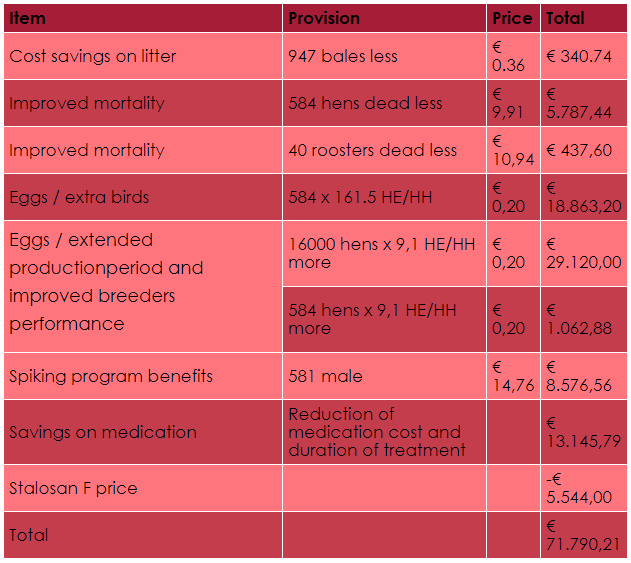 ROI 1:13
It is similar ROI in case of eggs hatching and day old chicks are offered to the market.
BENEFITS OF STALOSAN F APPLICATION SUMMARY:
IMPROVED PRODUCTION RESULTS.

REDUCTION OF MORTALITY AND MEDICATION COST.

IMPROVED ENVIRONMENTAL CONDITIONS.

CONSUMPTION OF BEDDING MATERIAL REDUCED WITH 50% AND EASIER LITTER MANAGEMENT.

COST EFFECTIVE – BRINGS ADDITIONAL PROFIT FOR THE USERS.