13. september 2018
Vilofoss inaugurates state-of-the-art Premix & Nutrition plant in France
Stéphane Travert, Minister of Agriculture in France, inaugurated Vilofoss' new Premix & Nutrition plant Ouestmin. Together with the partner Agrial, the large French agricultural group, Vilofoss expects that the plant in three years with a capacity of over 50,000 tonnes annually will account for 20% of cattle Premix & Nutrition production on the French market.
What began as a 50-50 joint venture between the French agricultural group Agrial and DLG's subsidiary Vilofoss, has now resulted in a state-of-the-art production plant in Brittany. The new Premix & Nutrition plant 'Ouestmin' already produces at almost the highest capacity.

"We are incredibly proud of our new factory, Ouestmin, which we have just opened with the French Agriculture and Food Minister and our strong partner Agrial. It is enormously satisfying that Vilofoss' foothold in France has increased considerably. The plant is the most modern of its kind in Europe, so of course we have high expectations of delivering high-quality Premix and Nutrition to the French market, often referred to as Europe's most important agricultural country," says CEO of Vilofoss Jacob Holm.

Vilofoss and Agrial together have invested 11 million. Euro (DKK 82 million) in the Ouestmin factory. The plant uses 60% less energy compared to a regular Premix & Nutrition plant, supporting DLG Group's goal of a modern production with lower energy consumption.
Ouestmin will serve as the main supplier of cattle minerals to Normandy and Brittany, both regions some of the most important areas for France's dairy industry - and a stronghold for Agrial.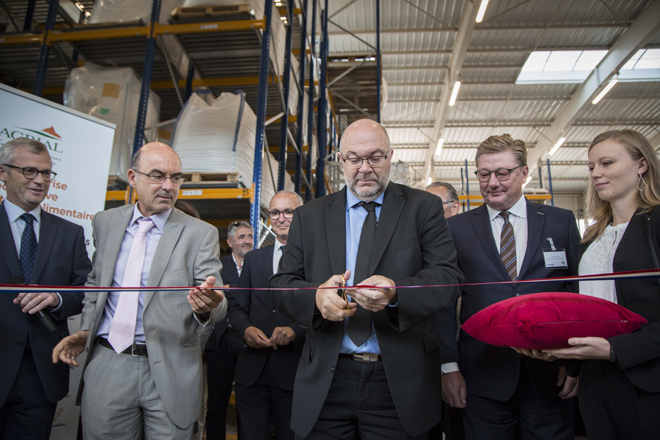 At the inauguration of the new Ouestmin factory, the CEO of Agrial, Arnaud Degoulet (left), France's Agriculture and Food Minister, Stéphane Travert, was cutting the ribbon, and CEO of Vilofoss, Jacob Holm.