7. August 2020
Product launch: Vilofoss® PECKStone fresh
Enlargement of the product portfolio of PeckStones
VILOFOSS® PeckStone pre-occupation materials have been used for 8 years worldwide in all types of farming for laying hens, broilers and turkeys and are constantly being developed. The PeckStone variants "medium", "hard", "extra hard" and "active" are available in different degrees of hardness to suit every type of flock and for a wide range of applications.
With the VILOFOSS® PeckStone fresh we are introducing another innovation. The new mineral stone is characterized not only by the proportion of coarse limestone grit. The special feature is its content of valuable essential oils.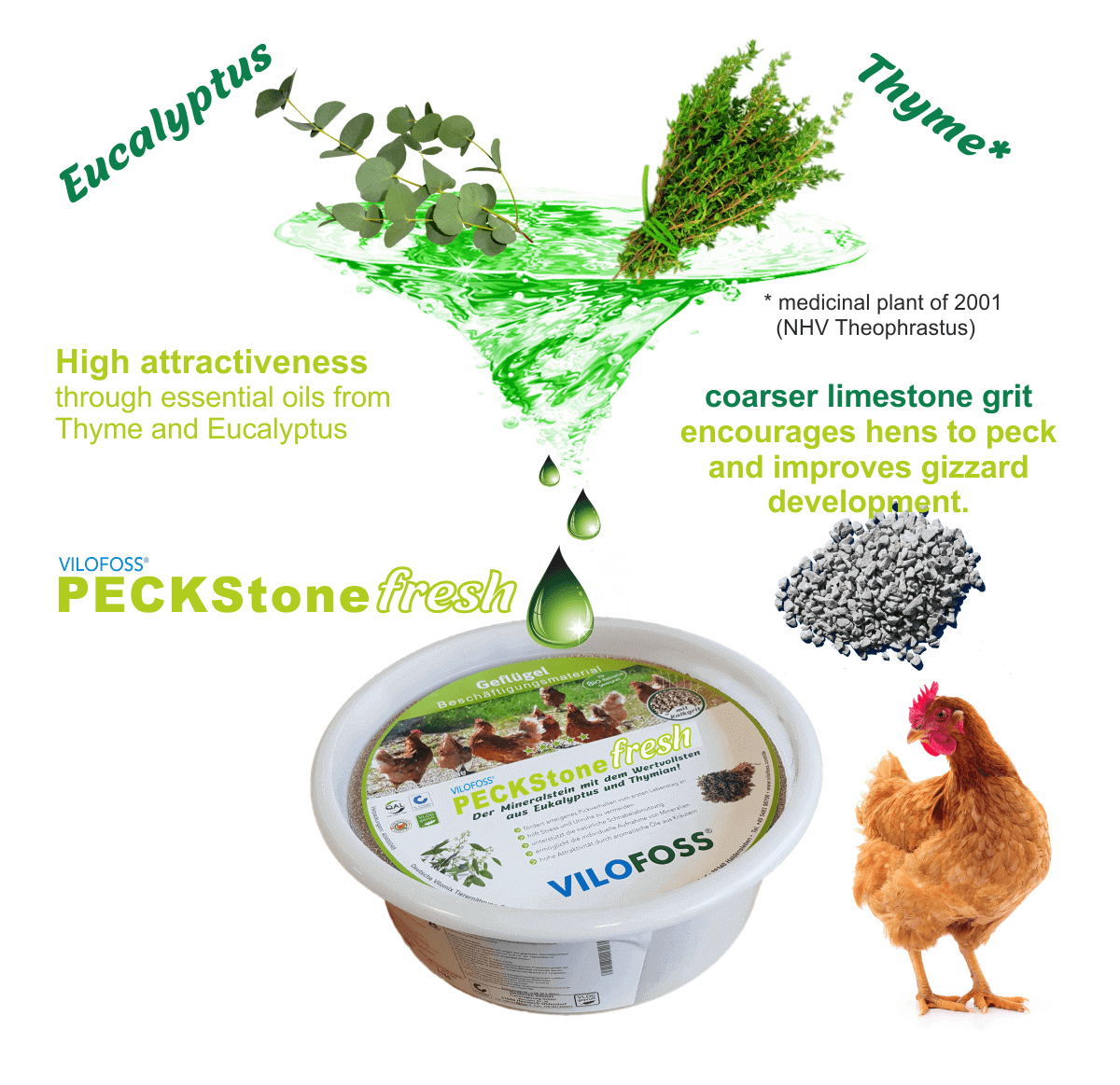 The beneficial effects of thyme and eucalyptus on the respiratory and gastrointestinal tracts are well known. They are used in special products by many people. Chickens also benefit from the aromas gently extracted from fresh herbs by using steam. Even when pecking at the new VILOFOSS® PeckStone fresh, the effect on the respiratory tract can be released before they are absorbed together with the minerals.
The VILOFOSS® PeckStone fresh is offered in an advanced white transparent bowl of 10 kg. It is suitable for use in organic farming.
Contact person:
Jan van Spil
Poultry Specialist - Spécialiste Volaille
Mobile +33 6 88 28 70 40
Email: j.vanspil@vilofoss.com
Uwe Frackenpohl
Director Vilofoss Poultry Group (VPG)
Mobile: +49 173 917 530 5
E-Mail: ufrackenpohl@vilofoss.com
Dr. Faraz Ansari
Regional technical manager Vilofoss Poultry Group (VPG)
Phone: +49 162 8703033
Email: fansari@vilofoss.com